John Hemphill was the namesake of the north/south artery of Fort Worth that has been home to the Southside church for six decades. Hemphill is a schizophrenic street, a bipolar boulevard, that represents well the man for whom it was named.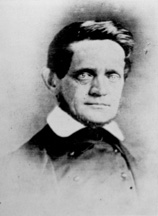 Hemphill was a heroic soldier and an Indian fighter on the frontier in the early 19th century. Yet he was also a well-educated lawyer fluent in several languages. He ascended to Chief Justice of the Texas Supreme Court when Texas was its own sovereign nation. Then a U.S. Senator from Texas who was expelled by the Congress when Texas seceded from the Union at the dawn of the Civil War, he became a "Johnny Reb" who was a signee of the Confederate States Constitution and lived in Richmond, Virginia serving in the Confederate government until his death in 1862. A Texas County, a Texas city, and a street in Fort Worth are named in his honor.
His life was riddled with paradoxes. He was the son of a Presbyterian minister. He never married but lived with his slave Sabina for decades and fathered two daughters with her. Hemphill sent his two daughters north to Ohio to study at Wilberforce College — a
historic Christian college serving African American students that still exists today. It was an epicenter of the abolitionist movement.
Our own Hemphill Street is a similarly peculiar collage of races and lifestyles. Enigmas are everywhere. Strip clubs and churches, bars and schools, prostitutes and police, day laborers and social workers, tattoo parlors and community centers, refugees and millennials, doctors and derelicts. Catholics, Baptists, and Campbellites abound alongside of bail bondmen, psychics, and the homeless. A fascinating potpourri of peoples. All as flawed as our street's namesake.
Good old Hemphill Street is an eclectic, confusing kaleidoscope of peoples and lifestyles, isn't it?
Sounds like just the kind of place Christ might hang out…