Couldn't help but laugh out loud to the words of fabled evangelist Marshall Keeble in the January, 1948 Winter Lectureship at David Lipscomb College. (I came across this treasure buried in the 2500-book library of my late Father-in-Law who was a student at Lipscomb at that time.)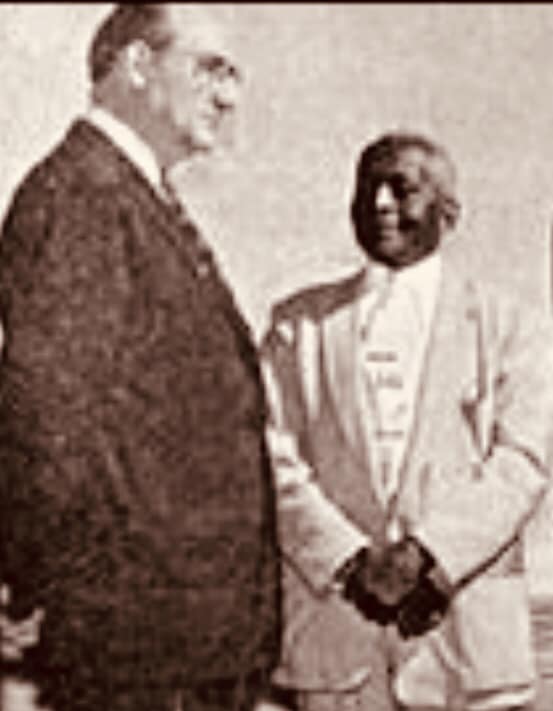 Brother Keeble has just been introduced by Athens Clay Pullias, President of the College. Pullias told the story of meeting the renowned African-American scientist George Washington Carver in Tuskegee Alabama.
He compares Brother Keeble to this iconic scientist that had done so much for the people of the South through agricultural discoveries and innovations. Then Pullias says that Marshall Keeble has done "infinitely more on higher ground". He lauds the minister for preaching 50 years, personally baptizing more than 25,000, starting 200 congregations, and being President of Nashville Bible College which was training 150 Gospel preachers. Regretfully, in 1948 Lipscomb, churches, schools, restaurants, pools and in fact most cultural entities were segregated. Jim Crow laws and Jim Crow attitudes made Marshall Keeble a novelty at Lipscomb and a novelty (or sometimes unwelcome) in the white churches.
But Brother Keeble was obviously touched and stirred by Athens Clay Pullias gracious accolades and heartfelt affection for the old soldier of the Cross. Keeble strides to the lectern, thanks Brother Pullias warmly for the kind introduction and then adds these truthful words:
"It is true that in the Church of Christ we don't believe in too much praise. We are afraid that it might excite the individual---make him think more highly of himself than he ought. For that reason, men who are worthy suffer immensely in the Church of Christ… But you know someday we will tell them of how much we appreciate them, or tell somebody, but it will be when they are dead -- and we will be sure that they are."
Marshall Keeble was right, wasn't he?
Beautiful epitaphs and loquacious tributes flow easily from our tongues, but most often it is when their subject is deceased.
Solomon said," A word fitly spoken is like apples of gold in settings of silver." Proverbs 25:11