She was one of the most famous people in the world in the Roaring 20s. Her athletic fame neared that of Babe Ruth, Jack Dempsey, or Red Grange. Yet you likely don't know her name, I didn't. Gertrude "Trudy" Ederle was a shy, stocky, broad-shouldered teenage girl when she rocketed to international fame.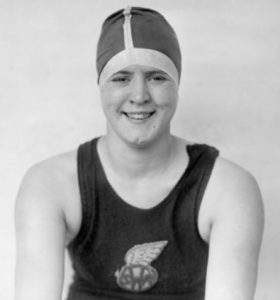 How did she become famous? Trudy Ederle was the first woman to swim the ENGLISH CHANNEL. Only five men had previously traversed the 21-mile wide Channel that was infamous for its powerful tides, chilling waters, unpredictable storms, fog, stinging jellyfish and busy shipping lanes.
In 1925 the Olympic medalist from the previous year's Games in Paris had failed at her first attempt. Her manager, in a trailing boat, had shouted "she's drowning!" at the20-mile mark, and someone leaned out and grabbed her. This resulted in immediate disqualification. Trudy was furious, she had simply been resting, but determined to try again.
On August 6, 1926, the Coast of France had heavy gray skies and an approaching storm. But resolute Trudy waded into the frigid waters with a small American Flag sewn into her suit, yellow goggles, a red swim cap, and slathered with 3 layers of grease set off for the White Cliffs of Dover.
The 19 year old was a young lady of faith. Before entering the water she knelt and prayed "PLEASE GOD, HELP ME". London bookies had set the odds as 6 to 1 against a successful crossing. The "weaker sex" was deemed incapable of such an athletic feat.
Early in the swim she thought about quitting. The waves were huge and she felt nauseated… but she kept swimming. It began to rain…she kept swimming. The forceful current kept pushing her off course…she kept swimming. Her worried trainer on the boat yelled for her to stop…she kept swimming. The waves grew to nearly 20 feet…she kept swimming. The people on the 2 small boats that trailed her were leaning over the sides violently ill…she kept swimming.
Her trainer frantically yelled over the maelstrom for her to quit. She yelled back "WHAT FOR?"(Hence her famous nickname "Little Miss WHAT-FOR"). The newsmen on the boat cheered for the teen with such grit, she put her face back in the water… she kept swimming. Now she could see the bonfires on the English coast. Huge crowds assembled to greet her. The wind and waves had added 14 more miles to her 21 mile swim. Yet her 14 hour and 31 minute swim had beat all previous men's times by an astonishing 2 hours!
She returned to New York a heroine. The city greeted her with its first ever ticker tape parade (Charles Lindbergh was the following year). Two million people lined the sidewalks and cheered "LITTLE MISS WHAT-FOR" and "TRUDY, QUEEN OF THE SEAS". President Calvin Coolidge hailed her as "America's Best Girl". A popular song "TRUDY" was composed in her honor.
"LITTLE MISS WHAT-FOR "never married and lived her middle age years as a swimming teacher of deaf children. She had suffered a hearing loss as a result of measles when she was five years old and her empathy was great. Eventually she too became deaf and lived in a world of silence her final years. She lived quietly and contently. "Why should I reach for the moon when I've had the stars?" she would say.
Trudy outlived her fame and her family but not her faith. Her faith nourished her "WHAT-FOR" and sustained her till the age of 98. On November 30, 2003 she died alone in a nursing home in Wyckoff, New Jersey. She would hear the "WELL DONE, ENTER IN "and all of life's "WHAT-FOR's" would be answered.
FAITHFULNESS to God outlives Olympic medals, cheering crowds, and ticker tape.